We photograph Real Estate listings for
a long list of loyal clientele
and want to ensure that our images have the best possible dynamic range (good highlight and shadow detail). To help achieve that goal we decided to compare shooting in the RAW format compared to the Jpeg format. Would we get better results starting with RAW images in camera and converting the RAW images to Jpegs later in Photoshop or would we get the same results shooting in Jpeg mode from the start?
Going into this test we also kept in mind a few other differences between the formats and our workflow needs:
The one big advantage though for shooting in RAW is the ability to change the colour balance of the image during post-production. So if the incorrect colour balance was selected during the shoot, the image could be easily corrected later. Even seasoned real estate photographers can sometimes have trouble deciding the color balance inside a home (See How to Avoid Gross Yellow Real Estate Photos)
RAW images capture more dynamic range information
It's difficult and a pain for everyone involved (photographer, real estate agent, homeowner) to have to reschedule and reshoot a couple bad shots at a listing
Jpegs have smaller file sizes, optimal for file transfer and web use and at the same time still printable.
Important to our workflow is having fast upload and download times because our real estate Photographers don't do the post-production Photoshop work – our Digital Photo Technicians specialize in that area but are not at the same physical location, so all the unprocessed images for the still photos and 360 panoramas (hundreds of images for each real estate listing) must be transferred online from the Photographer to the Digital Photo technicians quickly so that we can get them into the hands of our clients sooner.
Because the final display on our website is in Jpeg format, shooting in Jpeg mode would eliminate one step of the processing (converting RAW to Jpeg).
I took two photos in dual mode on my camera, one RAW and one Normal sized Jpeg.  After converting the RAW file to a Jpeg and shrinking it down to the same size as the original Jpeg, I took 4 sample points and found the identical location (or close approximation for the RAW file which was a different size) to create an accurate comparison.  The results are below:
Camera – Nikon D90
Lens – Nikon 12-24mm 1:4 G Lens
Conversion using ViewNX
Sized in Photoshop where readings were taken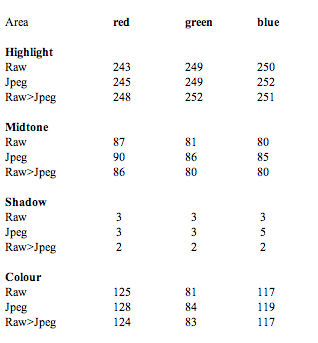 The three images side by side, the second set with the 4 point samples:
As you can see, the differences were negligible between the two Jpeg files and impossible to detect by the naked eye.  As long as the photographer retains the same colour space and doesn't make any other adjustments, simply converting from a larger file size directly to a Jpeg will not produce any adverse effects. Our Digital Photo Technicians have enough detail to work with in the Jpeg files in order to ensure a good dynamic range and are still able to correct for color balance and density. It is even enough detail for our WindowView Enhancement and Magazine/Print quality upgrades which print to 8″ x 12″ at 300 PPI.
As a result of this test, we reaffirmed that our current workflow is the best one and that we do not need the additional conversion steps and much longer file transfer times (it already takes hours to transfer the images currently). We can continue to have a very quick turn-around time for delivery (95% of the time the next business day, but for certain within 2 business days) even if our top producing clients are combining to give us 30 listings in a day. The only thing we need to rely on is the ability of our photographers to select the proper color balance for each shot on-site, but that is why we hire the ones we do!
In summary, the Jpeg format even in the Normal setting, is more than sufficient for real estate photography, including the luxury and high end market as long as you have color balance nailed. If not, shoot in RAW so that you can adjust later. Just be aware that you will be increasing your post-production time, especially if you are transferring files over the internet and you won't be gaining any detail that the naked eye will be able to observe when you display the photos on your website.
Please let us know what you think of the article and if there is anything else you would like us to cover regarding real estate photography.