Introduction
Here is our step-by-step process of everything you are going to get when you work with SeeVirtual Marketing & Photography
Place Your Order step 1

When you sign up with us today, online or by phone, we will gather all of your business and branding information. This will help us to understand your unique approach to real estate listings in order to have our services seamlessly complete and "fit-in" with your brand. We will then assign you a professional photographer and a floor plan technician (depending on the package) who will contact you, your assistant or your vendor directly to schedule an appointment.
Production step 2

On the Day of your appointment, a professional photographer and/or a floor plan technician will arrive, on time, to photograph and measure your listing. They will take the time to discuss your vision, emphasizing key selling points that you want to capture. Our technicians have vast experience at composing photos not only to look outstanding but also to have great "curb-appeal".
When the photographer returns to the office, they will sort, select, and label the best photos from the shoot – a proof sheet can be sent to you at your request. The floorplan technician will begin labeling the rooms and calculating the square footage. The files will then be immediately uploaded to our server for "post-production". If you prefer, our technicians are also able to photograph and measure your listing even without your presence.
Post-production step 3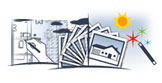 Within 2 business days following your appointment, our digital photo experts will edit your photos to ensure proper contrast, color balance, density, shadows, highlights, and in some cases add our BlueSky Enhancement to your exterior still if the weather was not as desired on the day of your appointment. The Panorama shots will then be sorted and "stitched" together to create your own breathtaking 360-degree views. Our floor plan technicians will add your branding and contact info to the floor plan. Then a personalized webpage will be created and hosted on our servers with your contact information, photos, panoramas, and floor plans. We will also make your listing visible on Google Maps, Google StreetView, and Walkscore with appropriate links to your personal website.. After all is complete, we will email you a copy of all the processed still photos, a link to your virtual tour page, and a pdf version of the floor plan for your approval and make any changes to ensure your complete satisfaction.
We will utilize your MLS listing data, add it to your tour, and send MLS-labelled stills and the virtual tour link to your board – if you do not have a MLS number at the time, do not worry as we will keep checking with the board on daily basis until it becomes available.
Marketing step 4
Within 4 business days of submitting your materials to the board, we will create a high quality video slide show and add music, your brand and contact information. We will upload the video to YouTube, research and insert appropriate keywords that will increase your exposure, add your MLS comments and link it back to your virtual tour page to get you more views. We will also embed your YouTube video into your SeeVirtual tour page.
Ads will the be created and placed on Craigslist and Kijiji to drive more traffic to your listings and leads to you.
Ongoing step 5

Your weekly stats of your visitor traffic will be emailed to you allowing you to continuously monitor the performance of your virtual tours. This tool will greatly help you maximize your selling strategy, as well as, keep your clients in the loop as to how much traffic the listing is getting. This option will also help you make informed decisions on your marketing dollars and ROI.
In addtion, we will send you leads of buyers who view your virtual tour and want to book an appointment, ask you a question or just want more information about the listing.
During any part of the process, if you would like to change anything about your listing such as photos, panorama images or description, we will be glad to do it for you and be there every step of the way to ensure you and your clients get exactly what you want.